Organizational Structure of OBE
OBE is tasked to develop an internationalized atmosphere conducive to bilingual learning by providing support and resources to all NTNU units, both administrative and academic. Under the guidance of university leadership, OBE will gather feedback from all stakeholders and generate consensus and strategies to ensure successful implementations of university policies and achieve bilingual education goals.
In addition, NTNU has created the Implementation and Consultative committees as complements of OBE in its work. Under the leadership of the University President, OBE is further supported by all agencies of the university.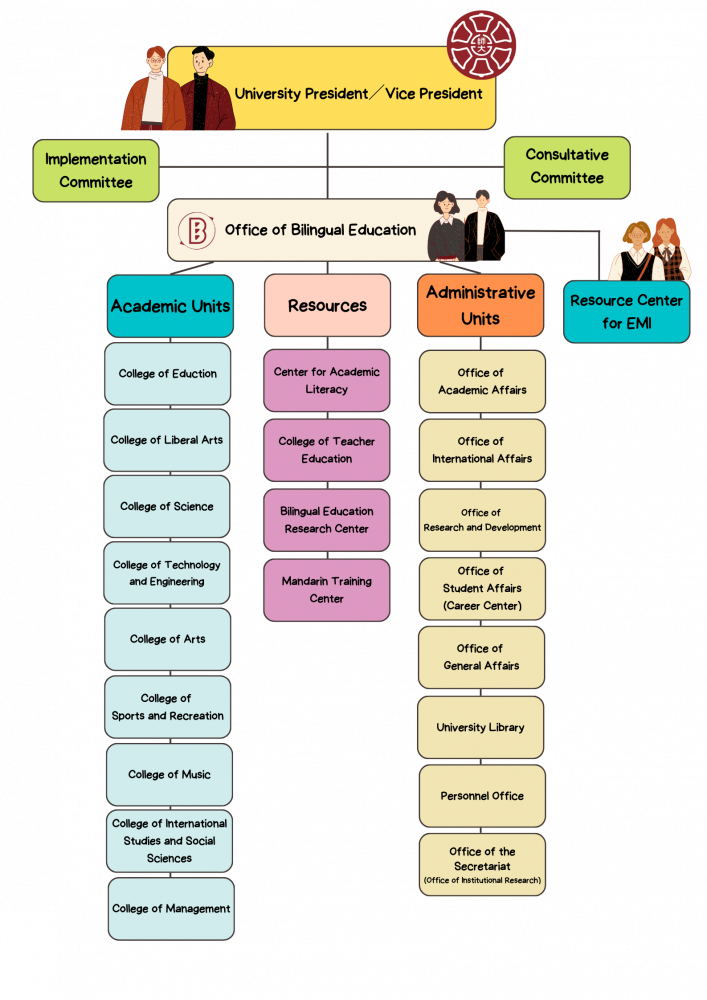 OBE will be led by its Director, who will be assisted by a Deputy Director, an executive secretary, and several administrative assistants.
The responsibilities of the office shall be as follows:
1. Bring all relevant stakeholders together to formulate policies, allocate resources, and implement strategies.
2. Review and adjust current EMI policies and bylaws.
3. Reallocate resources, provide EMI course support, assist all the colleges and departments expand current EMI training.
4. Track the progress, performance indicator and the budget implementation efficiency of the program regularly.
5. Organize an annual management examination conference to formulate new annual strategies for the program.