The Bilingual Nation 2030 policy
With increasing globalization and internationalization, "English Proficiency" has become one of the most important abilities for international communication and  global industrial competitiveness. To attract foreign investment, provide high quality environment for industry, and enhance the global employability of our nationals, the Government of Taiwan announced the Bilingual Nation 2030 Policy to train and cultivate future generations of Taiwanese professionals who are not only highly trained in their profession, but also fluent in English.
To promote and implement the policy effectively, the Executive Yuan instructed the National Development Council to coordinate the allocation of resources in all ministries and plan a comprehensive bilingual policy that focuses on improving our students' English proficiency, so as to make Taiwan a bilingual nation and strengthen the international competitiveness of future generations.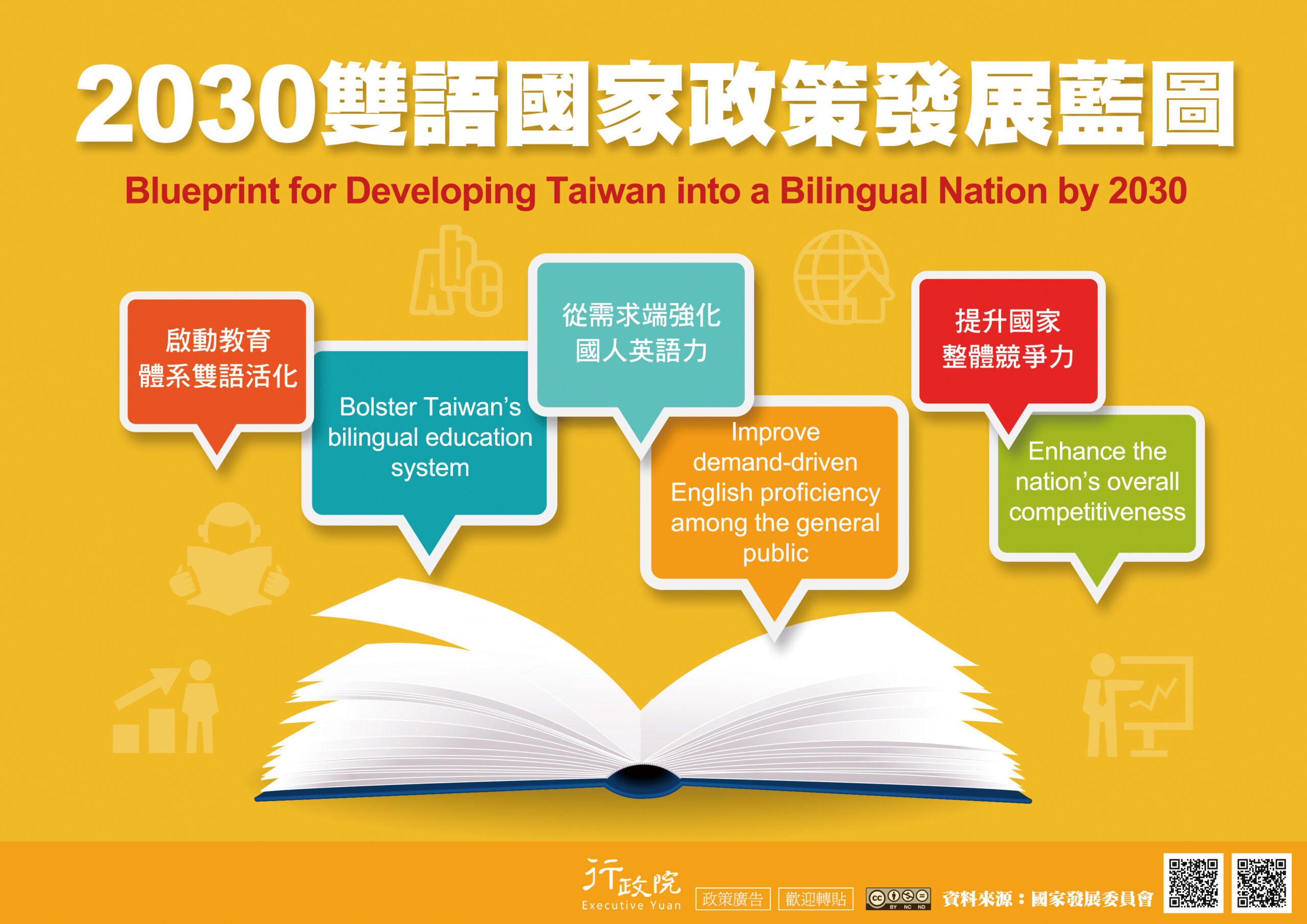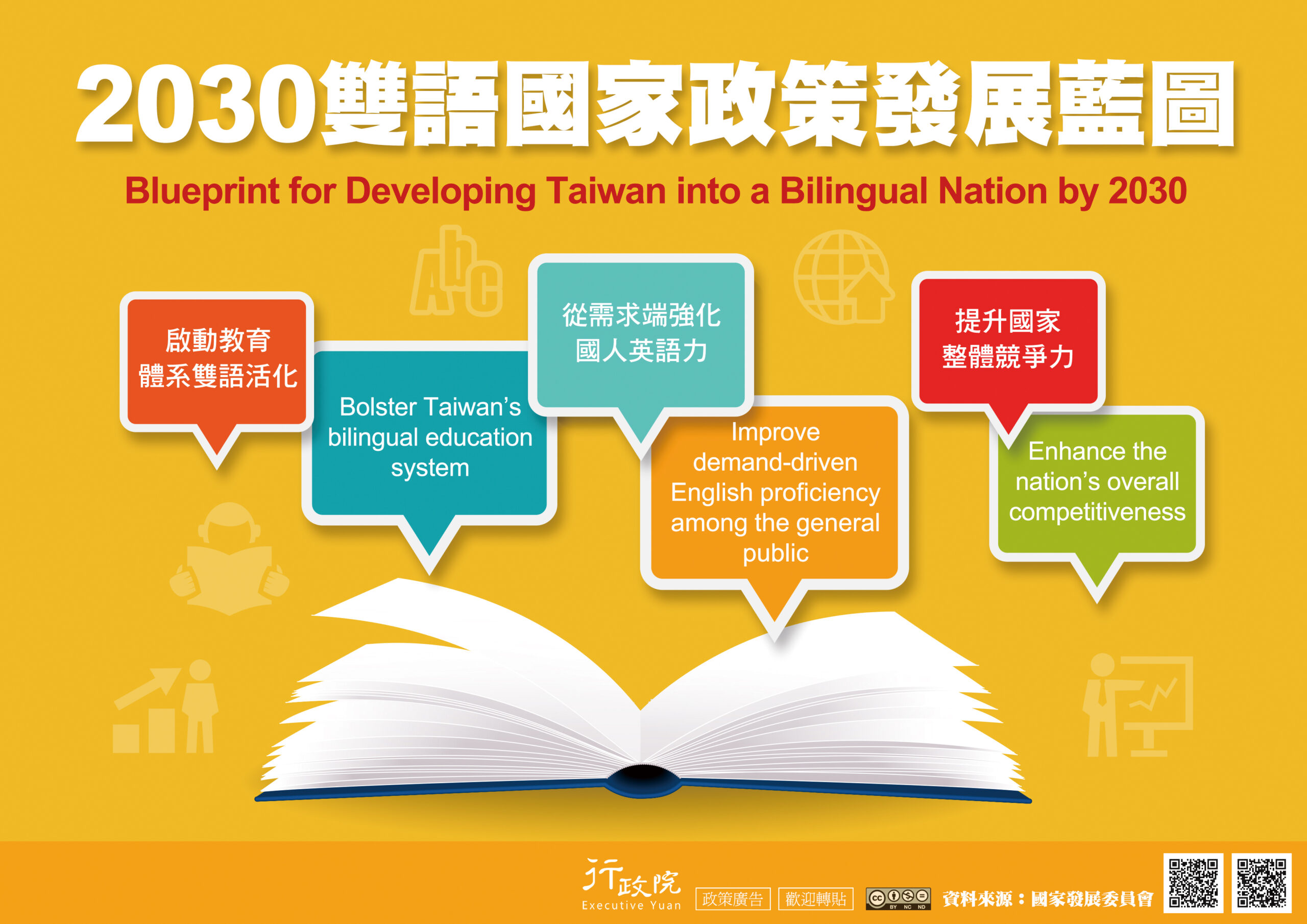 The Program on Bilingual Education for Students in College
The Bilingual Nation 2030 policy aims to transform Taiwan into a bilingual country, with enhancing the English proficiency of citizens and promoting the competitiveness of Nation as its strategic core. The Ministry of Education then proposed "The Program on Bilingual Education for Students in College" in September 2021, which is geared to help higher education institutions to further strengthen their students' English proficiency and promote EMI to enhance overall international competitiveness. Internationally competitive universities or colleges within these universities are encouraged to apply to become one of the six bilingual model universities or one of the 30 bilingual model colleges.
The Program on Bilingual Education for Students in NTNU
An internationalized environment has now become the top prerequisite in attracting international talents. As one of the premier universities of Taiwan, NTNU was chosen as one of the four Key Cultivation Universities in the BEST Program organized by the Ministry of Education.
By participating in the BEST Program, NTNU will receive a new boost in our internationalization efforts. It is a new impetus that pushes our faculty and students to "internationalized".
As the Office of Bilingual Education (OBE) is a new university-level EMI office supported by the BEST Program, it is able to bring all relevant stakeholders together to formulate policies, allocate resources, implement strategies, and ultimately, develop a new bilingual university.
By bringing all departments and colleges of the university together, with policies and strategies that incentivize everyone to participate in the program, it is our goal to not only enhance the overall English proficiencies of our students, but also those of our faculty and staff members. Such success is well aligned with our university internationalization goals, which are:
Developing an international learning environment, cultivating bilingual interdisciplinary integration students.
EMI-focused faculty that is competitive in a globalized world.
Cultivating cross-culture leaders with international views and multi-culture literacies.
Encouraging international social participation, taking responsibilities in global sustainable development, and foster student's sense of global citizenship.
Our success will without any doubt be of great value to not only our university, but perhaps more importantly, to our students and Taiwan.